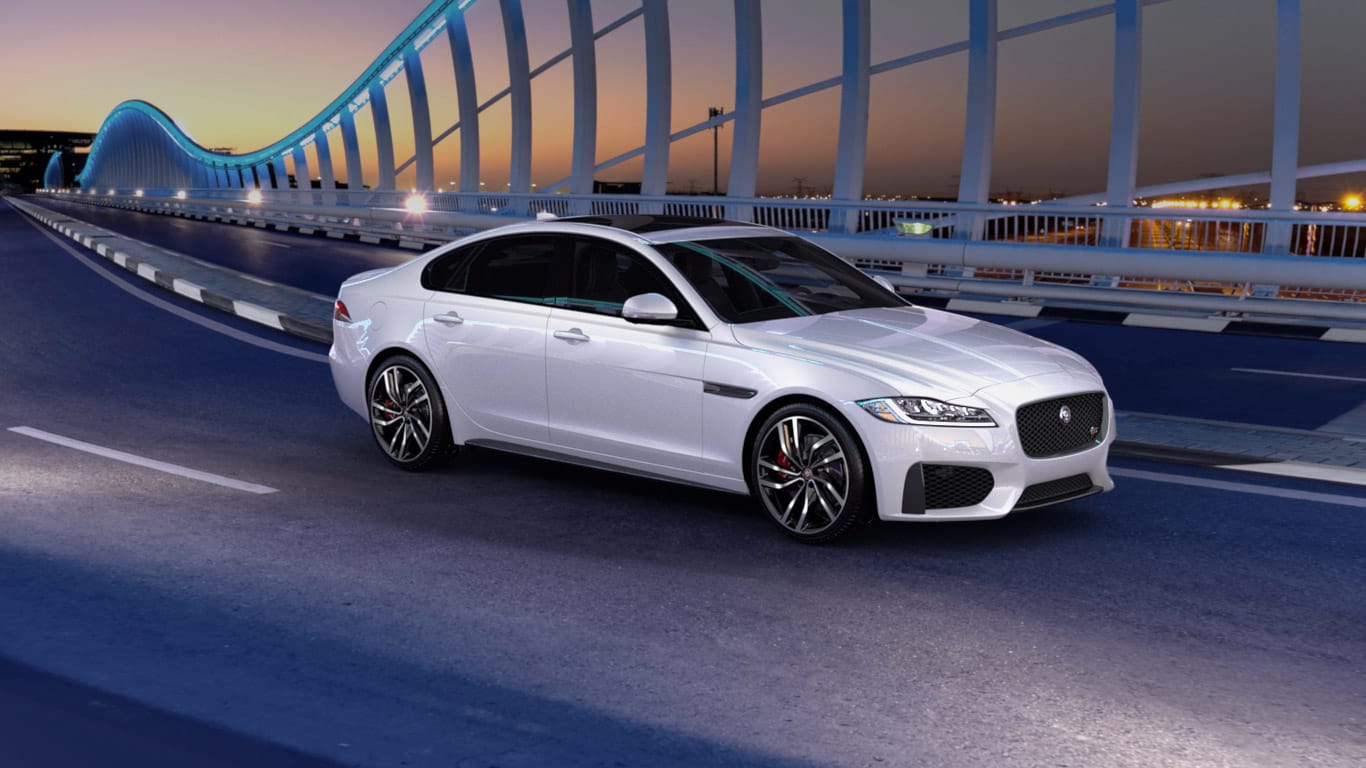 Distinctively Jaguar. The 2017 XF is an exceptional combination of refinement, dynamics and design. This luxury sedan delivers excitement, composure and comfort. All enhanced with the latest technologies that keep you connected and entertained.






TURNING ALUMINUM INTO GOLD
Thanks to its lightweight aluminum construction and unrivaled performance, the Jaguar XF has won Germany's top car award-the Golden Steering Wheel-after being named 'Best Saloon' in the mid-full-size category.
REFINED POWER
Enjoy the many benefits of efficient driving while enjoying effortless performance on tap. The XF model range offers five premium engines, including the 2.0L i4 240 hp Turbocharged engine and the 3.0L V6 340 hp Supercharged. You can opt for even higher performance with your choice of three supercharged V8 engines: The 5.0L V8 470 hp Supercharged, the 5.0L V8 510 hp Supercharged and the ultimate 5.0L V8 550 hp Supercharged in the XFR-S.
ENGINEERED FOR ENERGY
Daily energy savings quickly add up, supporting your environment as well as your bottom line. That's why your XF (if fitted with a 3.0L or 5.0L engine) instinctively shuts down the engine whenever the vehicle comes to a standstill, thanks to Jaguar Intelligent Stop/Start technology. Simply release the brake pedal and the engine purrs back to life again. Accelerate, and enjoy optimized performance and velvet-smooth gear changes as the advanced 8-speed automatic transmission continuously monitors both the road and your driving style.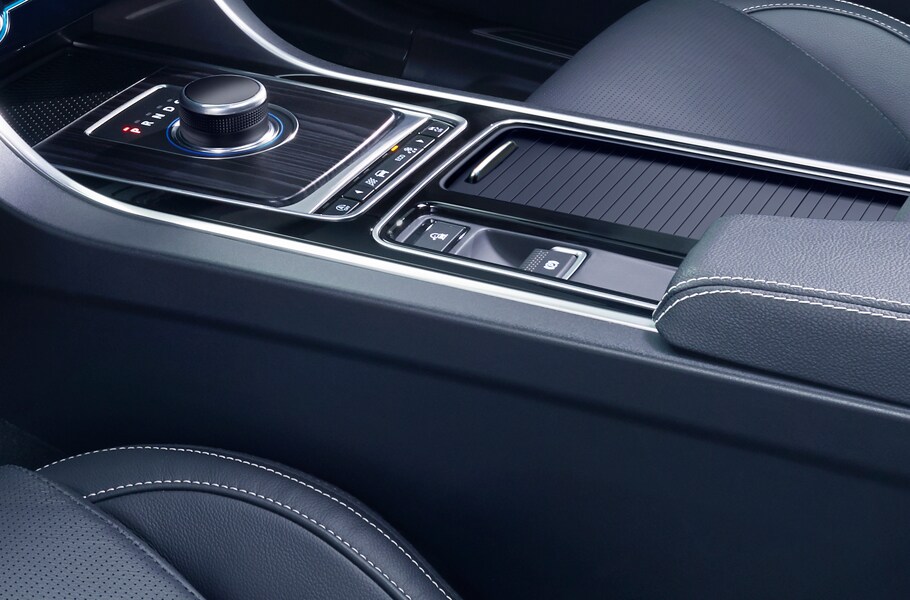 LUXURIOUS INTERIOR
Slide into an environment dedicated to your driving pleasure, with form-hugging supple leathers, crisp contemporary aluminum surfaces and classic real wood veneers. Minimalist sweeping lines give the cabin a contemporary elegance, every aspect ergonomically tailored. Experience the wide range of luxurious features inside the XF, and arrive at your destination feeling as fresh as when you left.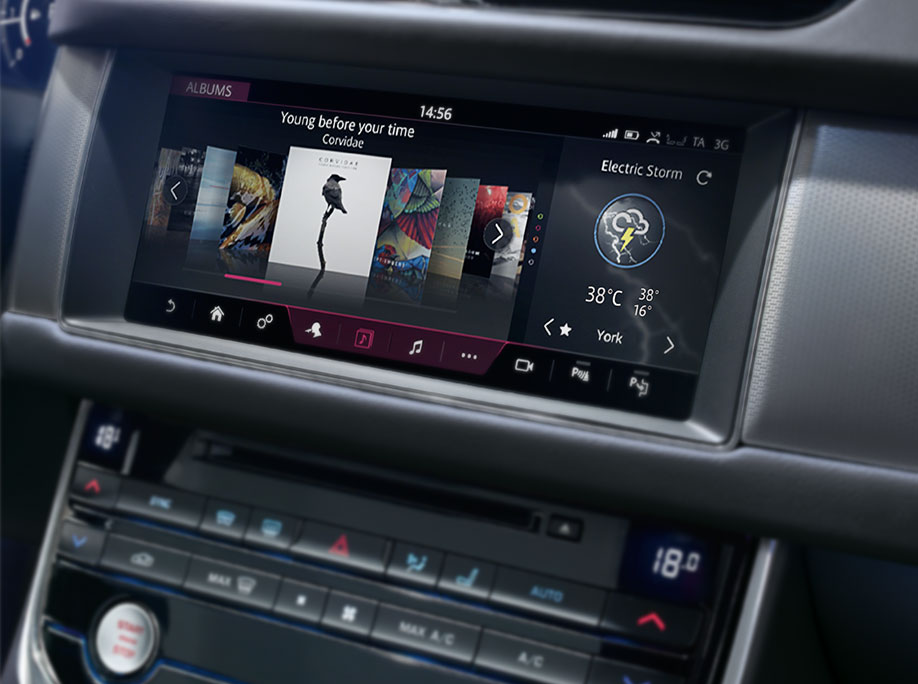 INNOVATION FROM START TO STOP
Stay connected and entertained through Jaguar InControl
®
Touch™, a new infotainment system. It features fast response times and a contemporary graphical interface on a touchscreen.
7
The available range of intelligent technology offered on the XF works to streamline your driving experience. You can choose to display key information, including navigation guidance, exactly where you want it - ahead of you - on either one of our optional technology features: the Head-Up Display system
4
with laser technology or the configurable 12.3-inch HD TFT instrument cluster. Responsive, intuitive and seamlessly integrated - Jaguar technology offers solutions that innovatively enhance your drive.
While we strive to provide accurate information, certain changes in standard equipment, options, prices, availability or delays may occur that may not be reflected. Options shown or described are available at extra cost and may be offered only in combination with other options or subject to additional ordering requirements or limitations. Some vehicles shown with optional equipment.
1. Price shown is
Base Manufacturer's Suggested Retail Price
. Excludes $995 destination/handling charge, tax, title, license, and retailer fees, all due at signing, and optional equipment.
Total Manufacturer's Suggested Retail Price
includes $995 destination/handling charge and may include optional equipment but excludes tax, title, license, and retailer fees, all due at signing. Retailer price, terms and vehicle availability may vary. See your local authorized Jaguar Retailer for details.
2. All figures are EPA estimates. Actual mileage may vary.
3. Always obey local speed limits.
4. These features are not a substitute for driving safely with due care and attention, and will not function under all circumstances, speeds, weather and road conditions. The driver should not assume that these features will correct errors of judgment in driving. Please consult your vehicle's owner's manual or your local authorized Jaguar Retailer for more details.
5. Driving while distracted can result in loss of vehicle control. Do not operate, adjust or view the navigation or multimedia systems under conditions that will affect your safety or the safety of others. Only use mobile phones, and other devices, even with voice commands, when it is safe to do so.
6. Please remember that the safety belts in a vehicle constitute the primary protection system for driver and passengers in collisions. Airbags are not designed to deploy in all collisions. The airbag Supplemental Restraint System (SRS) is a supplement to the safety belts and is designed to work as a system with the safety belts. Although airbags provide additional protection, airbags without safety belts do not provide optimal protection in a crash. Always wear your safety belts. Children younger than 13 years old should always be properly restrained in a back seat, away from airbags. Never place an infant seat in the front seat.
7. Do not use Jaguar InControl® features under conditions that will affect your safety or safety of others. Driving while distracted can result in loss of vehicle control. Jaguar InControl has a number of purchasing options that are available. As we systematically roll out the Jaguar InControl suite of products, specific features, options and its availability remain market dependent. Please see your local authorized Jaguar Retailer for more details. The Jaguar InControl Apps™ and InControl Remote™ smartphone apps will work with Android™ devices from version 4.1 and Apple® devices from iOS V7.0.
8. The InControl Protect™ Optimized Roadside Assistance call service requires a subscription, which is complimentary during the first 5 years/60,000 miles.
9. The Wi-Fi hotspot is intended for passenger use only. InControl features may require an additional subscription with separate terms and conditions.
TRADEMARKS
Meridian™ is a trademark owned by Meridian Audio Limited. Bowers & Wilkins
®
is a registered trademark of B&W Group Limited. iPad
®
, iPod
®
and iPhone
®
are trademarks of Apple, Inc. registered in the U.S. and other countries. The Bluetooth
®
word mark and logos are owned by Bluetooth SIG. Inc. Bluetooth
®
v2.0 is compatible with a range of mobile phones from a number of different manufacturers. Dolby
®
and Pro Logic
®
are registered trademarks of Dolby Laboratories. SiriusXM
®
and Sirius Satellite Radio
®
are registered trademark of Sirius XM Radio, Inc. HD Radio™ is a trademark owned by iBiquity Digital Corporation. DTS
®
and Neo:6
®
are registered trademarks of DTS Inc. WhiteFire™ is a trademark owned by Unwired Technology LLC. All other trademarks are the property of their respective owners.